Sacha L. Fossa 
Sacha is committed to awakening and expanding energy and consciousness for embodied empowerment and healing, sexually and otherwise.
She began this path of self-development at a young age. In experiencing life challenges such as familial abandonment, date rape, sexual assault, and other trauma and abuse, she felt unloved, and victimized. In her early 20's, in yet another suicide attempt, she experienced an awakening to energy and consciousness beyond this mundane reality. From then on she became a seeker of wisdom which led her to train in healing arts modalities. Eventually she discovered Sacred Sexuality.
It was the deep immersion into this field, and particularly Tantra, that led her through her greatest sexual healing and personal transformation. Sacha can help you discover your innate self healing power, and become more orgasmically embodied, too. As your guide, she can help you to take a faster path than she did. In the journey you will quickly discover there is nothing really wrong with you. And there is so much more ease and joy available when you learn to play and dance with life, orgasmically, by BEING more of you.
Tantra taught her to reclaim her body, her power, her life, and her pleasure. The practice of Sacred Spot Massage was a primary piece in this work. Choosing and creating pleasure, which naturally awakened the Goddess in her, was underlying it all. She knows that you can stop choosing drama, trauma, pain and suffering. That we can heal and move through whatever we consider to be "bad" experiences, to discover, and consciously choose to create and experience more pleasure.
Sacha can navigate and support you on your path of awakening and healing. You will find that just being in her presence is healing, and the process is easier with her holding your hand.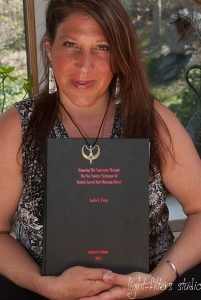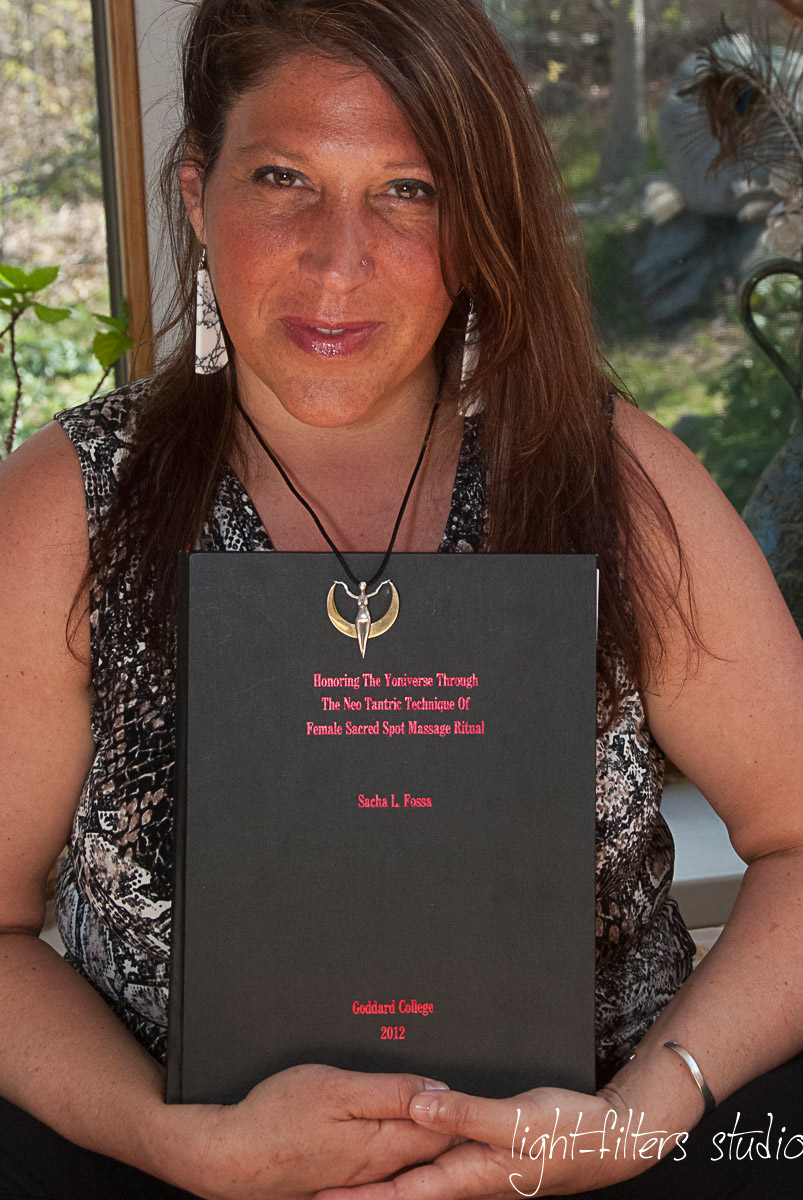 As an Advanced Certified Tantric Educator (ACTE through Source Tantra) with an MA in Health Arts and Sciences, Sacha's life work focuses on sexual empowerment and healing through sex education, sacred sexuality, and holistic healing arts. Her dissertation on female pleasure and sexual healing through the Neo Tantric technique of Female Sacred Spot Massage Ritual documents the extraordinary healing possibilities for women.
Sacred Temple Arts, as not only a body of work but a way of life, arose out of her studies and research, as well as her personal healing process.
Sacha evolves and experiments with these sacred temple arts, as she is committed to a life of co-creation at its best: working with Universal Laws, sexual energy, other playful humans, and Nature. More conscious loving connection to oneself, others, the Earth, and the Universe, is what she desires and contributes most.
In her own relationship experiences, she's had traumatic experiences of familial and partner betrayal and abuse, as well as ecstatic tantric union with conscious loving partners.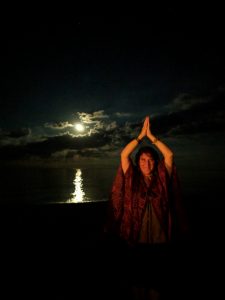 She has first hand experience in many different types of relationships: friends with benefits, soulmates, so-called twin flame, polyamorous, same sex, monogamy and monogamish. She is currently revitalizing herself, and resurrecting her Best Sex & Love Life Vision, while seeking a partner to co-create their lives, and Visions, together.
Spending many years single, diving deep into her own self, sex, love and purpose, has been a huge part of her life's work. Sacha is no stranger to the devastating suffering intimate relationships can be when one or both partners are not resourced, and continually triggering each other in trauma and drama. Her depth of study and training in the fields of sex and intimate relationships is to heal her greatest sexual, intimate and relationship wounds, and to help others to do so as well.
Experiencing more sexual energy and love, without and/or with a partner(s), is possible now.
"Find ecstasy within yourself. It is not out there. It is in your innermost flowering. The one you are looking for is you. You are the traveler and you are the destination. In experiencing the ecstasy of your own being, you have achieved the final goal." –Osho
Save
 Sacha has an especially deep bond to her cats, the other Sacred Temple Arts resident Goddesses: Sekhmet and Lilith. Felines have always been her immediate family. You could say, her life is dedicated to pussy, in a variety of ways 🙂
Save
Save
Sacha's Credentials
BA Lesley University: Liberal Arts http://www.lesley.edu/          
MA Goddard College: Health Arts & Sciences http://www.goddard.edu/
ACTE, Advanced Certified Tantric Educator, Source Tantra
Healing Arts Training & Certifications
Certified In: Advanced Certified Tantric Educator,
Reiki Master, Advance Energy Medicine, Esoteric Healing, Jo-rei, BioGenesis, Touch for Health,
Unlimited Body, Access Consciousness Bars ™ & Body Process™ Sessions,
Flower Essence Consultant,
Aroma Touch™ Technique, Aromatherapy, and Herbal Studies.
More Trainings: Polarity, Meditation, Breathwork, Shamanism, Astrology, Women's Spirituality, Paganism, Occultism, Metaphysics, World Religions, Consciousness Studies, The Spiritual Path (advanced courses with The Center For Esoteric Studies now called Spirit Fire
More Access Consciousness Classes: The Foundation, 4 day Sex & Relationship class, individual specialty classes.
More Tantra, Sex & Relationship Studies & Intensives
7 day 40 hour Sexual Healer Training intensive with Julianna Dahl, Paradise at Harmony,
6 month apprenticeship with Dameron Midgett,
Sacred Sexuality workshops with Michael Mirdad,
7 years of practice and workshops in Orgasmic Meditation OM,
Planned Parenthood Sexual Educator Certification Course,
Sheri Winston's Center for the Intimate Arts workshops,
Allison Armstrong's PAX relationship workshops,
Jaiya's Erotic Blueprint™ course (currently becoming a Certified Erotic Blueprint Coach™,
Deborah Sundahl's G-spot/Female Ejaculation course.
SaveSave
Classes, Events, and Workshops (Facilitated or Assisted)
Full Moon & New Moon (Goddess) special events & meditations,
Reiki Clinic Group & Private Classes,
Spiritual Cinema classes
Sound Healing presenting http://www.theconduitcenter.com/,
Source Tantra Introductory talks, Beginners & Intermediate weekends,
Tantric Intimacy classes,
Female Anatomy of Arousal & Pleasure workshop for women,
Women's Sacred Healing Sessions (6 month/Once Monthly Group),
An Introduction to Tantra & Sacred Sexuality presenting Michael Mirdad http://www.grailproductions.com
Manifesting Your Heart's Desire: Creating Ritual to Materialize Your Dreams presenting shaman Kristen Boyer http://www.kristenboyer.com/
Essential Oils and Wellness Presenting Patricia Kaye, Wellness Advocate www.mydoterra.com/sacredtemplearts,
Awakening and Mastering Your Energy workshops: https://sacredtemplearts.com/awaken-master-your-energy-workshop/
Classes for mother's and daughter's connection and empowerment.
Save
-I don't know anyone who knows more intellectually or experientially – or is more committed to the sharing of sacred sexuality than Sacha. When you are with Sacha, you are literally in good hands – with a heart and spirit as big as all purposes. Lucky you!
-Sacha is a naturally nurturing soul. The peace and caring she brings to her practice coupled with a rich but open understanding of Tantra history and possibility have made for deeply relaxing sessions of sensuality and stimulation both mental and physical.
Satisfied Clients
-Sacha has a real warm, sincere presence. She knows how to focus on you and tune in to your needs. And where she practices is an amazingly beautiful, peaceful spot. I felt listened to, and I felt she cared a lot.
-The first thing I noticed about Sacha was the passion she has for her work. She is single focused on sharing the healing power of pleasure during a session. Sacha gives her all and I left feeling healed and loved.
Satisfied Clients
I really feel supported by you in this work. I'm excited to continue on this path and grow deeper. Much gratitude for you showing up, creating and holding safe and open space for me to explore and see myself in. You are a blessing. 
Satisfied Client
Sacha has an essence that empowers and a presence that inspires. I was immediately impressed by what she is giving into the fabric of life. She is touching lives in ways that moves people to embody their own greatness and pursue their sacred purpose. Hers is a path of meaning and merit. Everything about her resonates positively. She sets an example that motivates and liberates. 
Satisfied Client