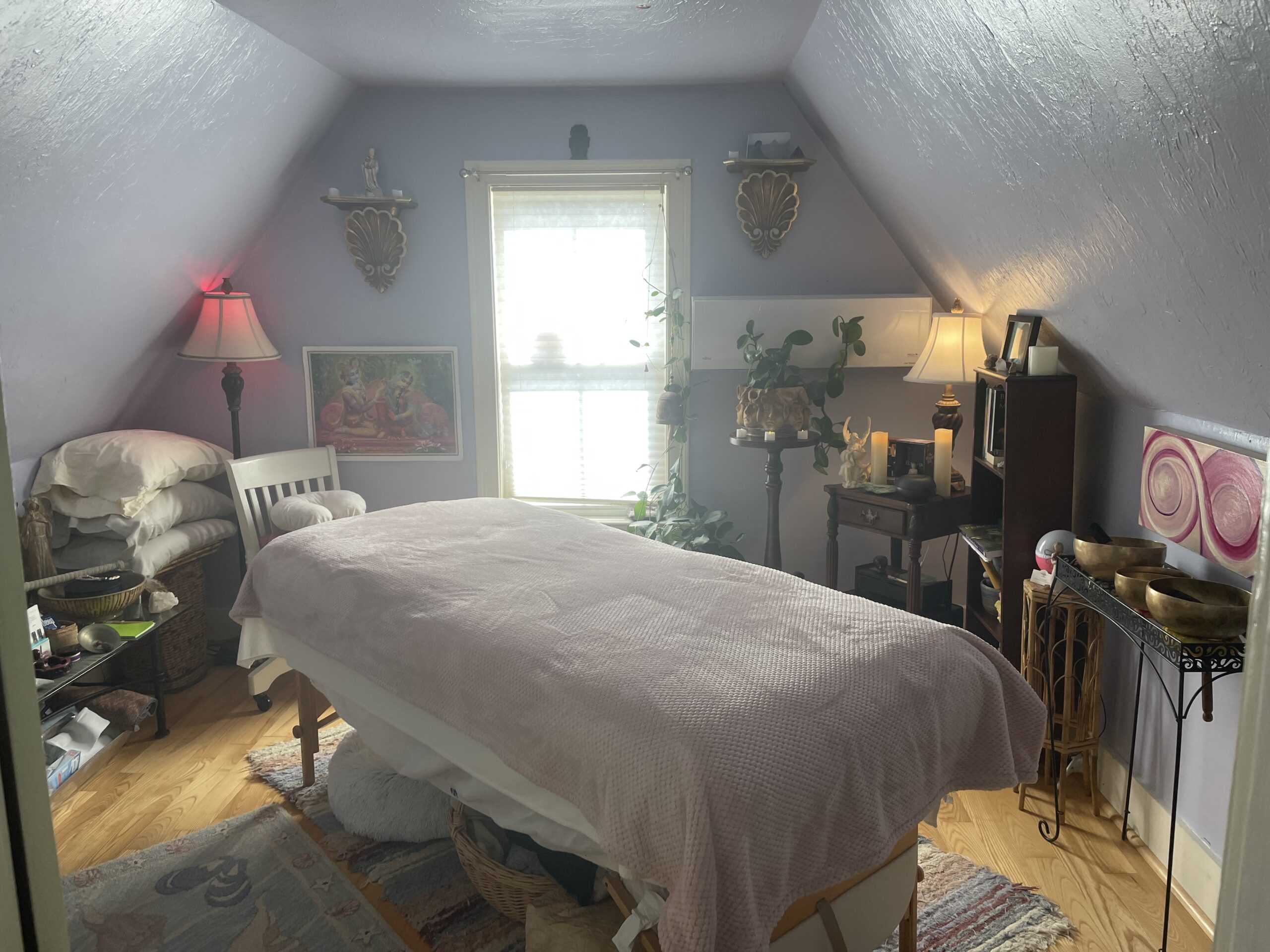 Intuitive Bodywork & Energy Healing
At Sacred Temple Arts, the healing power of touch is possible, energetically and physically.
Including Energywork and Bodywork is an important aspect of the Sacred Temple Arts curriculum to get you your better to best health, wellness, sex and love life!
"Sacha is not only a highly educated, well-rounded, experienced educator and healer, she is truly gifted with powerful empathy and healing energy. You can trust her to be open and honest with you – and help you to be more open and honest and happy with yourself in sexual awareness and pleasure, yet be very discreet. She opens your eyes, helps identify areas of trauma or misinformation and helps you work through them to reach for a better life. Her ability to wake up you to energy and move that energy through you is powerful – sounds "woo-woo" but it is something undeniable with her. She takes you as a client very seriously, completely customizing her approach through her in-depth consultation with you. Because she is educated in so many different modalities and approaches, she can draw on the best and most appropriate of those to serve your needs. And be ready to do your homework! She gives you action plans and practices to do between sessions and they are an integral part of your healing and her work. Her work was truly life changing with me and helped me discover a better reality and life than I ever could have been open to before.
Traditional sex therapists, and other licensed counsellors, cannot legally touch their clients for healing purposes. In most cases, even giving a hug is considered inappropriate at best. At Sacred Temple Arts we believe that safe, consensual, nurturing, healing touch is in most cases necessary for clients to meet their healing, wellness and relationship goals.
Although touch may help to awaken, increase and move (sexual) energy/life force, specific arousal is not the focus. Spreading and using this energy for your overall healing and pleasure throughout your whole body is. Therapeutic touch is used to help you get to where you need to be to create all the sexual touch and stimulation you desire on your own time as your homeplay (assignments are given in between sessions).
I've been studying and practising energy and bodywork for twenty plus years and have extensive training and/or certifications in more than 20 modalities including Reiki (Master), Polarity, Jo-rei, Touch for Health, Unlimited Body, BioGenesis, Esoteric Healing, Access Consciousness Bars™, Access Consciousness Body Process™, Shamanic and Yogic forms of healing, and Tantric Healing Arts.
I intuitively interweave these modalities as is needed, safe, and appropriate, in my hands-on, energetic touch and bodywork healing sessions.
I also work distance-wise with energetic healing for virtual sessions. 
Supporting clients in healing, awakening and embodying more energy and passion in their lives is my speciality.
These Intuitive bodywork and energywork sessions combine the many modalities of healing I draw from. They are customized and led by my intuition, and your comfort and choices in receiving, in each moment.
For in-person sessions, you lay on the massage table for the session. For distance sessions, the client lays comfortably in their own environment, while I work on you energetically.
These sessions address any and all personal life, body, relationship, or sexual issues or challenges. The bodywork and energy work will be catered to your needs and desires. I will support your own body and energy, activating and accelerating your life-force to clear any blockages and to align you fully with your source of healing and empowerment.
"True healers know that wellness is the order of the day, so they do not allow themselves, even for a moment, to see anything other than that. So, the power of the healer is in the power to influence the one who needs to be healed into a vibration that allows the healing that they are summoning. (that they could get, even without the healer, but they can get faster with a healer's influence)."  —Abraham(Hicks)   Excerpted from: San Francisco, CA on July 30, 2005
Save
I had two healing sessions with Sacha at her home, which has a high-energy room strictly devoted to healing. She used her expertise in tantra, polarity, reiki, and crystals to align my chakras and free my spiritual energy. At the end of each of our sessions, I felt energized, healed, alive. Sacha is a powerful healer with a very positive and loving energy, and I look forward to more sessions with her, when my schedule can allow. Thanks for everything.
I have worked with Sacha in a few capacities drawing on her skills as an energy healer and holistic practitioner.  I am a retired energy worker, yoga instructor, therapeutic practitioner, professional athlete and special education teacher. In the last 7 years since last practicing healing arts, life has changed dramatically! Anyone with eyes, instincts, or desires to notice, will. I came to Sacha with a need to get unstuck! Old ideas, which I had resolved hundreds of times, were still haunting my life; even with decades of emotional healing work. It was time to get a new groove on and I needed help! She helped me to define my intentions, desires and needs, reinforced with language that synthesized thought, action and my energy. It was new to apply my wishes with energetic support and alignment. It had been easy to do for others. Both my intentions are happening in the set timeframe (within 2 months) and all I have to do is rest in my knowing and trust. As a former energy worker, I was simply and forthrightly brought right back to my gifts, while receiving the nourishment an old soul like myself needed greatly. I recommend Sacha Fossa to facilitate your journey home to yourself. Thank you Sacha for your courage, boldness and fabulous appreciation of a life well lived!
After one session that focused on helping her release shame around her sexuality, and constant tension and frustration in regards to that, as well as her inability to sleep without panic attacks…
"Just in case you (Sacha) don't believe it-YOU ARE A HEALER! Right down to your DNA! I slept for a long time, deep happy sleep-no panics, no tossing and turning. And after first getting up in the morning, I went back to sleep for 3 more hours! I have SO much less tension in my body. You create miracles-and your intuition to types of energy is uncanny."