Limited Time Special Offers On…  
Holiday

Gift Certificates for 
Coaching, Healing & Bodywork Sessions
Give a gift that keeps on giving!
Wrap up the gifts of healing and rejuvenation this holiday season!
The receiver of our Body, Soul and Life Healing Gift Certificate (below) can choose from our many session offerings such as:
Holistic Therapies: Bodywork & Energy Healing, Meditation & Breathwork, Gem & Flower Essence, or Aroma Touch Healing
Spiritual & Intuitive Guidance, Ancient & Modern Tantra, Intimacy & Relationship Coaching
Access Consciousness Bars™ & Body Process™
Law of Attraction Life Skills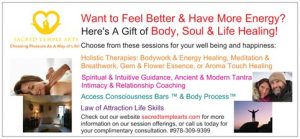 Or…
Wrap up more passion & intimacy this holiday season!
The receiver(s) of our Best Lover Gift Certificate (below), an individual or couple, will experience customized coaching, in person or Skype, to:
Discover the Keys to Creating the Sex & Love Life They Have Always Wanted!
Reignite Passion, Spark or Rekindle a Relationship
Create More Pleasure, In & Out of the Bedroom
Become More Orgasmic
Learn Skills & Practices to Become the Best Lover
Release Sexual Trauma & Shame
Claim & Express Their Sexuality
Become More Sexually Awakened & Empowered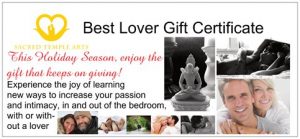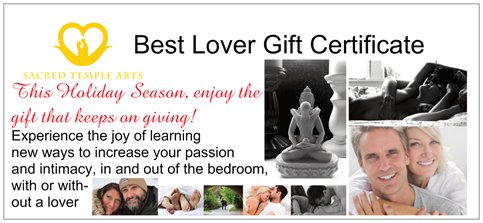 The back side of both gift certificates looks like this (but not in color)…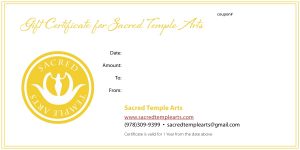 Call #978-309-9399 to purchase.
Gift certificates start at $75 per hour.
Skype/phone sessions available for all coaching & healing modalities except bodywork.
Free phone mini consultation.              
         Choose Pleasure As A Way of Life This Holiday Season!