Commit To Getting Sexier This Year.
Really, Why The Hell Not? Single, Sexless, &/Or Partnered.
It's Never Too Late To Connect To Your Unique Eroticism.
At the end of 2018, I found myself crushed that my 2018 Best Sex & Love Life Vision (to see the video click here) had not birthed. 🙁 I even felt like I failed at it, miserably. 🙁
Then I realized, even though I did not attain (YET!) my sex and love life partnership goals, I have better sex (solo! and partnered), and more intimate friendships and love, then probably 98% of the population. Possibly even a higher percentage than that actually. So really, what am I complaining about?
Why is it that I have more and different orgasms and sexual pleasure, and play, then 98% of the population?
Because I work on it!!! I invest in my own sexual empowerment coaching, education, and healing. I continue to uncover and bring forth my inner most desires. I strive to always have a new and better vision, which translates into an intimacy plan of what I want more of, with myself primarily, then with others.
Your primary relationship is always with you, or it should be. You have to be your own Best Lover, first. Then you can become and Erotic Super Star with another.
In 2018, my Erotic Liberation continued with the highlights being:
Becoming a Licensed and Certified Erotic Blueprint Coach™,
and thus continuously diving in with more of my own exploration in the blueprints, and with my Erotic Blueprint Coaching community.
Exploring Erotic Persona work.
I found hidden aspects of my erotic self that wanted to come out to play. As part of Jaiya's Erotic Freedom Club and Erotic Blueprint Course, I learned about the potency of discovering our Erotic Persona's, and this body of "parts" work that can also SUPER CHARGE YOUR SEX AND LOVE LIFE! I had an intimate photo shoot. To can find out more about, and see more pics, click here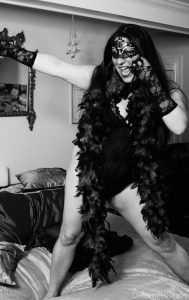 I unleashed my Dom side for the first time, just a little bit this year. After always being such a good Sub, I now know I can play both ways.
Adding Sexy New Products.
From new sex toys like my favorite wands on this page,, oils and yoni eggs, libido boosting supplements, and a new best ever for me, human growth homeopathic . This was a year I discovered more of what I can play with internally, or take internally, to get my juices flowing even more. I additionally decided to try out the infamous Hitachi Magic Wand, which I had assumed would be too much for me energetically in the past, as I am not so into vibes. Much to my surprise, it did not overstimulate, and is my go to for a date around ovulation time. 🙂
Continuing To Learn About Healthy Relationships.
I study and research all I can on this topic, as I prepare for one. This past year I got into understanding Attachment Styles. After listening to the book Attached: The New Science of Adult Attachment And How It Can Help You Find-And Keep- Love, I began to dive deeper into learning about how my attachment style has effected my relationships. I soon came to understand that had I been empowered with this information two decades or more ago, I would have not chosen the devastating (for my attachment style) relationships that I did. So many painful years of suffering could have, would have, been intentionally avoided with this education. Trust me, you want to have this invaluable information to immediately improve your love life, or potential love life.
Continuing To Commit To My Trauma Healing.
I am committed to getting myself healing sessions, hands on sexual ones and otherwise, from practitioners with the highest skills and integrity. #MeToo also hit took the Neo-Tantric world by storm this past year, and finally much is beginning to change in this culture as well. Click here for a former Blog post I wrote about.
I have spent almost 3 years now healing from the worst relationship of my life, with someone who claimed he was "my twin flame", but was actually an insidiously abusive, cruel, user and liar. Each year I become more of "me" again, in that I reclaim more of sexuality back from years of shaming from him.
I am also committed to a Trauma Informed Practice. (Click here, scroll to the end of the page to read about).
What were your Erotic Breakthroughs, new experiences and expansions in 2018?
What would you like in 2019?
It's never too late to simply choose what you want, and begin to generate and create new possibilities. Even if you have been in a sexless marriage for decades, even if you are in a healing or resting stage sexually, even if you have never felt very alive erotically, even if you think you are the world's best lover already, expanding your sexual energy/your life-force, will improve all aspects of your life.
Expand your sexual self expression for more health, vitality, and FUN. Besides all the health benefits of sexual self-actualization, why not just do it for FUN?
You do not need to know HOW specifically you will change your sex and love life for the better in 2019. You simply have to choose to do so, and to come up with what you want for Your Best Sex & Love Life Vision. The how comes as you go along.
If you need support in coming up with a plan for your sexy new year, invest in yourself with a session where we can get you immediately moving in the direction you desire.
I am committed to getting me my Vision. And to helping you get yours.
Contact me for details! Mention this Blog and find out about new beginning of the year sales on Sessions & Programs!
Here's To A Sexier New Year!